How to get in shape & look great for a big event
Do you need to get in shape for a big event? Let me show you how! Looking good at an event is often just the motivation you need to get fit. Whether you have a new job, a holiday, or an anniversary, a big event might be just the impetus you need. And, what bigger event is there than a wedding?
It's been so great to help Betty, our real reader, develop a wedding workout plan. Because I know how many people share her feeling. We've all wanted to whip ourselves into shape for a big event. And so many of us identify with her story of once being fit and active; until life got in the way! So, whether you're looking for a wedding workout, a way to drop baby weight, or you're just looking to make healthy changes in your life; read on – this post can help!
Post-baby, pre-wedding fitness makeover plan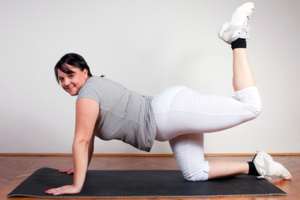 Betty will  marry in a few weeks. And we are providing some tips on how to help with her body image, weight and to get in shape again. She has a toddler and is trying to find a way to manage her little girl's needs and her own. The oh-so-familiar cycle of baby weight + busy life + weight gain, combined with longing to get back to her pre-baby body, are all a part of Betty's story that I can personally identify with. Getting back into shape post-baby is an incredible challenge for anyone!
It's an unavoidable fact of life that along with pregnancy comes baby weight. Then once the baby comes, there's hardly any time to work out. Then, on top of that, throw an upcoming wedding into the mix. Tell me you don't feel like eating a few cookies to relieve the stress!
Today, I'm excited because I get to pull from my personal experience to help Betty look and feel great for her special day. I've created a wedding workout and de-stressing plan. More importantly, my advice is designed to help Betty (and anyone reading this) to develop healthy lifelong habits. It's time to stop wishing, stop worrying, and get to work! Here's my fabulous post-baby, pre-wedding workout plan.
To make it fun, my four fitness beliefs fall into into what I call the D.R.E.S.S plan:
D: De-stress
De-stressing is crucial because stress can cause weight gain, lack of confidence, depression, and negative thoughts. The hard thing is, how do you de-stress when you are raising a child, living a busy life, planning a wedding and feeling not at your best? It's actually not as difficult as you might think. Every day, simply tell yourself that you have a dream and a plan to see that dream through. These two things together should help you realize that you are totally in control.
But when I decided to start taking a little me time and focus on myself for a few minutes each day, I would always feel better. And Betty will, too!
R: Relax
Do you remember being a kid in school on the day before a big project was due? If you were anything like me, you probably put off your project by finally clean your bedroom or helping mom with the laundry to avoid doing the work! The funny thing is that a lot of us still engage in this sort of behavior. Just remember: if you want results, you need to focus on your priorities. Betty has three priorities for the next few weeks: Taking care of her family, taking care of herself, and finishing up any wedding plans. Any of her other projects can wait, and the same goes for all of my readers.
Painting, sorting or house cleaning waiting to be done? You have permission to put those off until your self-improvement habits are well in development. It's human nature to immerse yourself in other projects, hoping that your main issue will somehow fix itself. Instead of falling prey to this trap, take my advice and forget about housework and focus on self-improvement. It's the best thing you can do for yourself!
E: Enlist a support team
"It takes a village!" In Betty's case, whether it's her maid of honor, her mom, or her soon-to-be husband, she must enlist them on her team and ask for support.
It's very hard to be motivated and consistent by yourself. My advice to Betty and others is; tell people you trust about your plans. And have them find ways they can be both physically and emotionally supportive over the next few weeks.
S: Sweat
Get in Shape
By sweat I have two meanings: I want Betty to push herself in her pre-wedding workouts until she is out of breath, and by sweating—that's one of the easiest ways to tell that you're burning calories! I also want her to not sweat the small stuff in her everyday life. During workouts, it's important to be mentally present and "in the now." I believe that one focused and conscious squat is better than 10 unconscious ones, so forget about your to-do list during your workout time and concentrate on maximizing your results.
S: Simplicity
There is no need to attempt a complicated exercise plan or undergo radical dietary restrictions. All it takes to begin developing healthy habits is an awareness of your choices in everyday life. I want Betty to focus on making the best health decisions. She possibly can with the advice that Susan, Jacquie and I have given her. By accepting that making the best choices for her body is now a part of her everyday life, Betty will have a hard time skipping her pre-wedding workouts!
source – discovergoodnutrition.com
get in shape – Dreamlife.Intl
Follow us






Share your thoughts